Beranda > Artikel
How to Overcome a Leaking Roof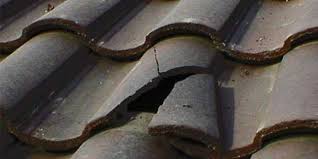 A common problem during the rainy season is a leaky roof. Rainwater that enters from the gaps in the tiles will seep down to the ceiling of the room. If the roof leak is not treated immediately, it will seep into the inside of the house and find the ceiling will be overgrown with fungus, it can even weather the part. In addition, the seepage of rainwater dripping from the ceiling, will not only disrupt the condition of the roof, but can also damage the beauty of the interior of your favorite home.
Leaking roofs occur for various reasons. For example, the position of the tile is messy or there are parts of the tile that are broken. Then, the cracking of the cement under the roof can also cause leaks on the roof. The curved roof construction also has the potential to cause leakage problems.
Well, if it's already happened, here's how to deal with a leaky roof.
Find the Source of the Leak
The first step you need to take to repair a leaking roof is to find and directly locate the source of the leak. That way, you can determine what type of material is suitable for use as a leaky roof coating. Use a leaky roof repair service if you feel you can't fix it yourself.
Pay Attention to the Gutters
Not only roof tiles, damaged gutters are often a source of problems for leaking houses. It's good, check and pay attention to the zinc gutters. If there is damage, replace the zinc gutters with a type of zinc alum that is more resistant to rust. As for the gutter, if there is damage, you can patch it with a leak-proof coating.
Use Leakproof Coating
If the source of the leak is on the roof top, then you can patch the cracked hair with a leak-proof coating that is widely available on the market. This method can also be applied to the roof of the house, if there are parts that are cracked and cause rainwater to seep into the room.
Fix the Tile Arrangement
House leaks can also occur from a messy tile arrangement and create a gap for rainwater to enter. Therefore, trim the location of the tile to a precise and straight position. If a damaged or broken tile is found, immediately replace that part of the roof with a new tile, but with the same color.