Beranda > Artikel
4 Important Tips Before Choosing a Carport Roof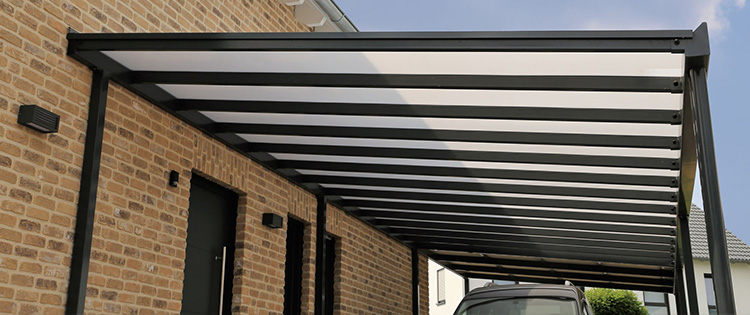 Choosing a carport should not be done carelessly, sometimes it is often not in accordance with the state of the house. To avoid this, the carport selection must be done properly. Given its location in front of the house, indirectly the carport becomes part of the facade that supports the exterior beauty of a house. Basically the form of a carport in an open design and has a cover or canopy.
Usually this carport design consists of several parts, namely the floor, walls, roof retaining structure and roof covering. Especially on the roof covering, not only serves to protect the vehicle. However, it can also make the carport look attractive. Therefore, it's a good idea to design the roof according to the concept of the house you have so that it looks matching.
Sunlouvre Carport Roof
There are various types of carport roofs, such as lightweight steel roofs, polycarbonate, not concrete or tiles, Sunlouvre Carport Roofs. Before you start choosing what roof is suitable for the carport in your residence. We recommend that you first consider a few things that you should pay attention to when choosing a carport roof.
1. If your carport or garage area wants to get lighting from the sun, then you can choose a transparent roof covering. The roof material that can penetrate the sun is like glass, polycarbonate or acrylic. However, if this type of roof is dirty, it will be easy to see. So, you must be diligent in maintaining the cleanliness of the roof, so that the appearance of your house remains attractive.
2. If the area of ??your house has a relatively hot weather, then you can choose a solid roof covering. Examples such as tiles and concrete. The choice of this type of roof will prevent heat in your carport area.
3. Pay attention to the slope of the roof covering. Because the roof is a part that is often occupied by rainfall, so you need to make sure that the water does not stop or is clogged due to an inappropriate roof slope. If this continues, it will cause a leak, and of course it can also damage your favorite car.
4. If you want to bring a modern impression to your carport, then there is nothing wrong if you choose glass, polycarbonate and acrylic materials. These materials can give a modern impression so that the front view of your home design will be more attractive.
Well, those are some tips for choosing a carport roof that you can consider for your residence. May be useful.